7 Day Freshness Guarantee

Order in just 3 steps

Buy now pay afterwards

Same day delivery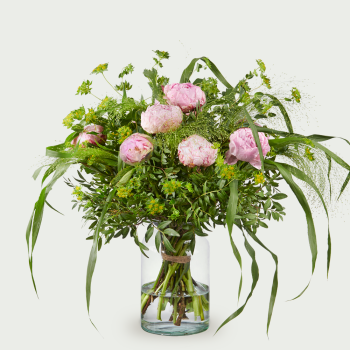 Available from May/June 2023
Order
It is time for peonies
Are you looking for a beautiful bouquet in mixed colors or a basic color? Choose a bouquet with peonies. This tropical surprise among flowers seems to come from faraway lands, but there is nothing as Dutch as peonies. And so now is the time to bring these special flowers into your home or give them as gifts.
Flowering time of the peony
When the peony blooms depends very much on the weather. At Topbloemen.nl you can usually order this beautiful flower in the month of June. Sometimes the peony already blooms in May.
A colorful appearance
Peonies come in different colors. So it's not just the full flower that makes them so popular. You can get the bouquets with peonies in the most beautiful colors. Therefore, they also suit every occasion. Would you like to have a bouquet of peonies delivered? Then choose a bouquet in different shades of pink or red. Of course, the bouquet can be mixed in color, but it is also possible to choose a bouquet with only pink peonies.
Always a fresh bouquet at home
Because peonies are only available fresh for a short period in the year, of course you want to enjoy your bouquet as long as possible. With Topbloemen.nl you know for sure that the peonies you are going to order, will always be delivered fresh. Whether you send them to a family member, a good friend or to yourself, we work together with more than 300 florists throughout the country. Therefore, there is always a florist near the delivery address. If you order peonies online through Topbloemen.nl, the composition of the bouquet only takes place on the day of delivery. This gives another guarantee on the freshness of the bouquet.
Choose for convenience and have your fresh peonies delivered
Would you like to have a beautiful bouquet of peonies at home, but do not have time to go to the florist yourself? Then order easily and quickly at Topbloemen.nl. Choose on the site which bouquet you like best and indicate how big the peonies should be. You can choose from different sizes. Do you want to give the peonies as a gift? Of course you can. And to make it easy for the recipient, order a matching vase. Then specify the day you want the bouquet delivered. Don't forget to include a card if it is a gift. This makes giving a bouquet of peonies even more personal.
Read more