7 Day Freshness Guarantee

Order in just 3 steps

Buy now pay afterwards

Same day delivery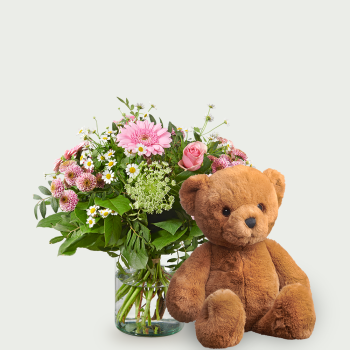 Available from April 30, 2024
Order
Currently, our Mother's Day assortment is not available. Our new assortment will come online on April 30, 2024.
Beautiful Mother's Day flowers delivered
Flowers and Mother's Day have been inextricably linked for years. Every mother can appreciate a beautiful bouquet on Mother's Day. Especially if you also give her her favorite flowers as a gift. Would you like to put your mother in the spotlight again this year on Mother's Day by buying her flowers? Topbloemen.nl will deliver the most beautiful Mother's Day bouquets at her home.
Wide choice of flowers for Mother's Day
At Topbloemen.nl you can choose from a wide range of beautiful bouquets for Mother's Day. Is your mother crazy about gerberas, does she love snapdragons or are roses her favorite flowers? Is she a fan of field bouquets or picking bouquets? Whatever your mother likes best; At Topbloemen.nl you are at the right place to deliver Mother's Day flowers. When you have chosen a bouquet, you can easily order the flowers online and have them delivered on Mother's Day.
Including vase and other extras
We deliver flowers for Mother's Day exceptionally also on Sunday. When ordering, you determine the size of the bouquet and you can indicate if you want a vase to go with it. Surprise your mother extra, by adding a gift to the Mother's Day flowers and of course add a card with a personal message.
Surprise your mother with beautiful flowers
Your mother is obviously the sweetest mother there is and therefore she deserves flowers! Surprise her on Mother's Day by ordering the most beautiful flowers for her. Did you know that we always give a 7-day freshness guarantee on every bouquet you order from us? And that your Mother's Day bouquet will be delivered on Sunday? Do you have any questions about ordering flowers at Topbloemen.nl? Take a look at the frequently asked questions for more information about our Mother's Day flowers.
Read more