7 Day Freshness Guarantee

Order in just 3 steps

Buy now pay afterwards

Same day delivery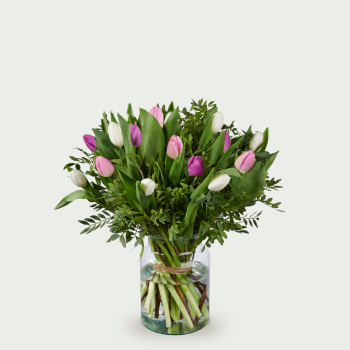 Back again in January 2024.
Order
Unfortunately, our tulip assortement is not available at the moment. Our new tulp assortiment will be available in Januari 2024.
Order tulips and have them delivered
Do you want to add some color and brighten up your interior? Or are you looking for a nice gift to give? Choose for a nice tulip bouquet of Topbloemen.nl. In the period from January till March you can order beautiful tulips and have them delivered at any address in the Netherlands. Who are you going to surprise with a beautiful bouquet of tulips?
When is the tulip season?
The flowering season of tulips runs approximately in the months of April and May. This is the period that you see the fields full of beautiful colorful tulips. At Topbloemen.nl you can order tulips in the months January to March and have them delivered. This is because the tulip bulbs grow into beautiful flowers during the year in the greenhouses. These are offered for sale on our website from January.
Shelf life of tulips
The shelf life of tulips depends on a number of factors, such as the quality of the flowers and how they have been cared for. But if you make sure the tulips get enough water and cut them regularly, they will stay beautiful for a long time. And if you put the flowers in a vase, you can further extend their shelf life by changing the water regularly and adding a flower nutrient if necessary. When you order tulips at Topbloemen.nl, you always benefit from a 7-day delivery guarantee.
Meaning of tulips
Tulips are also a popular flower because of their meaning. They usually symbolize love and longing and are therefore often given as a gift to a loved one. However, tulips can also have other meanings depending on the color. For example, red tulips symbolize passion and love, while yellow tulips are meant to cheer someone up. So if you're looking for a way to give someone something special, tulips are a great choice.
Besides our beautiful assortment of tulips, at Topbloemen.nl you will also find a large selection of picking bouquets, mixed bouquets, roses and more. So you can order a cheerful bouquet all year round at Topbloemen.nl!
Order tulips online at Topbloemen.nl
Ordering tulips online and delivery is very easy at Topbloemen.nl. Choose the desired bouquet and select the desired size. Then you also have the choice to order a glass vase with your tulips. And do you give the tulips as a gift? Then add a card with a personal message. Nice for the recipient.
Are you curious about our service? Or would you like to order tulips online and have them delivered but are having trouble finding them? Feel free to contact our customer service. You can call us directly at 088 - 110 8000. We'll be happy to tell you all about buying a bouquet of tulips.
Read more