7 Day Freshness Guarantee

Order in just 3 steps

Buy now pay afterwards

Same day delivery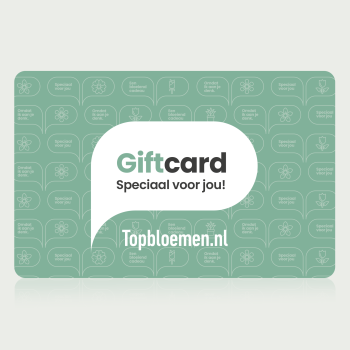 Topbloemen.nl giftcard
From
The Topbloemen.nl giftcard is the gift card in the field of flowers! The receiver can spend the card at all Topbloemen.nl affiliated florists and online at Topbloemen.nl. It is also possible to spend the gift card on Topbloemen.nl. This way you will always be right!
Order
You have a Topbloemen.nl giftcard
Congratulations!
How nice! You've got a Topbloemen giftcard. With this giftcard you can order flowers online or you can pay with the giftcard in the Topbloemen stores. Below we give you an explanation.
---
Spend your giftcard online

Step 1.
Choose a nice bouquet and follow the steps.
Step 2.
Choose Gift Card in the payment method.
Step 3.
Enter the long barcode number + the PIN behind the scratch pad and follow the further steps to complete your order.
If an order is not completed, your gift card may be temporarily deactivated. After about 2 hours it will be automatically released and you can still use it in your order.
Don't you have enough gift card balance?
Then you can after your partial payment with the gift card the remaining amount to pay for example iDeal. If you do not do this your order will not be completed and after some time (usually after 2 hours) the balance will be put back on your giftcard. You can then try again at a later time.
Pay with multiple gift cards?
You can. After your partial payment with your first gift card, select Gift card again. Repeat this if you have more gift cards.
Balance left?
The remaining balance remains on the card for your next purchase.
Step 4.
After you have paid the order in full with your Topbloemen gift card and if you have made an additional payment with another payment method, your order is completed and you will be redirected to the thank you page. You will also receive a confirmation email.
Finished!
Enjoy the flowers!
---
Spending the card in a store
You can also spend your giftcard at all florists who are connected to Topbloemen.
---
Check balance and validity
The Topbloemen giftcard is valid for 3 years after issue/activation. Check here the validity and balance of the giftcard. The pincode can be found under the scratch layer.
[GIFTCARD_CHECKER client_id="93a4ee2979e22883fc6de9bd1aed1050" recaptcha_key="6LfAu_QZAAAAAJYwefV10P1vDD4QBXV5N2pEm9NU"]
Ordering gift cards yourself?
View our extensive range of gift cards
Read more